The Safe + Sound Campaign is organized by OSHA, the American Industrial Hygiene Association, American Society of Safety Professionals, The Center for Construction Research and Training, National Institute for Occupational Safety and Health, National Safety Council, and Voluntary Protection Programs Participants' Association. For more information and additional resources to help you establish or improve your safety and health program, visit the Safe + Sound Campaign website.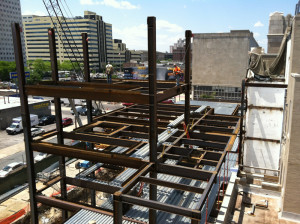 Mid-Atlantic Construction Safety Council
The MACSC consists of Construction Safety Specialists representing Construction Managers, General Contractors, Subcontractors, Insurance Companies, Insurance Brokers, Health Care, Union Representatives, Consultants, Construction Association Representatives and Others. MACSC's efforts are directed towards, but not limited to sharing safety information for our mutual benefit, fostering safety awareness, standardizing safety practices, encouraging cooperation and open communications, providing a resource of knowledge, experience and information and assisting contractors with implementing and maintaining safe work practices.
Summer is here and the heat is on! Keep an eye on fellow workers & know signs of danger when working in extreme heat.
The new app, available for both Android and iPhone, is a collaborative effort between OSHA and NIOSH to update the OSHA Heat Safety Tool. Anyone using the current version is encouraged to download the new tool. This Tool will no longer be available for download after September, 30, 2017. For more information, see the NIOSH Science Blog post:  Heat Index: When humidity makes it feel hotter.
The Safety Council in collaboration with our industry partners focus to identify, reduce, and eliminate construction-related hazards. Be a part of the change for safety…be a member of the Mid-Atlantic Construction Safety Council. Click the "Become a Member" button below.

As part of its committee to information quality, MACSC encourages communication with it s members. MACSC fosters discussions with its members and OSHA by a variety of formats including our monthly meetings, phone, and emails.

The information, tools, and resources provided through the Council are designed to assist those in the industry – whether worker or employer – to identify, reduce, and eliminate construction-related hazards.
I just wanted to thank MACSC again for the scholarship I received this past Spring. I'm very grateful for the amount of support I have received in school, and you helped me out a lot. I am doing my internship at Wohlsen Construction this summer, and I thought I would share that with you all! I'm continuing my interest in Construction, and maybe someday I'll make my way down to Philadelphia to work. Thanks so much!
Samantha Harsh
INTERESTED IN JOINING THE MID-ATLANTIC CONSTRUCTION SAFETY COUNCIL?
If you are a safety professional, working in construction in the Pennsylvania, Delaware or New Jersey area and are interested in becoming a member of the Mid-Atlantic Construction Safety Council, please download, complete and return our Membership Application listed below.