GBCA Update 4/2 GBCA has been working hard to aid you, our member, during these uncertain times. We have been informed that Governor Wolf and Secretary of Health Dr. Rachel L. Levine have issued a clarification letter and an updated FAQ that further outline the state of construction and the limited scope of operations provided to projects that have been granted waivers. Project users who are planning to seek project waivers must submit all exemption requests by 5:00pm on Friday, April 3, 2020. If you have received a notification from the ra_dcexemption@pa.gov address that approves or denies work under the non-essential list at that time, this new update replaces that prior guidance. 
Resources
Letter of Clarification for PA Residential Construction Projects PA Updated FAQ
Emergency Shift Provision to Address COVID-19 Memorandum of Agreement with the Philadelphia Building Trades Council (BTC) and the Eastern Atlantic States Regional Council of Carpenters (EAS) to allow for a reduction in the 2nd and 3rd shift differential to $0.25 and $0.50 respectively. This change was done to encourage the overall reduction of crew sizes per shift, further enabling social distancing on job sites. Please note this does not impact a contractor's obligation to pay overtime or weekend premiums, per the respective collective bargaining agreements. This agreement is valid for 45 days from execution.  The second initiative is the establishment of a COVID-19 Recommended Job Site Protocol jointly developed by GBCA and the BTC. This protocol was created with the expert guidance of our safety consultants at MedTex Services and GBCA's Safety Committee. These protocols adapt the widely recognized recommended practices laid out by OSHA and the CDC for our industry. The adoption and implementation of these protocols will help our industry to build more safely during this pandemic.
Resources
Focus Four  Campaign/ March-Electrical Hazards
Find the stakholders campaign leter, sample toolbox trainer tips, sample toolbox sign-in sheet and various OSHA publicaitons for your use on our Resources Page >>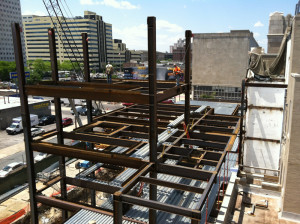 Mid-Atlantic Construction Safety Council
The MACSC consists of Construction Safety Specialists representing Construction Managers, General Contractors, Subcontractors, Insurance Companies, Insurance Brokers, Health Care, Union Representatives, Consultants, Construction Association Representatives and Others. MACSC's efforts are directed towards, but not limited to sharing safety information for our mutual benefit, fostering safety awareness, standardizing safety practices, encouraging cooperation and open communications, providing a resource of knowledge, experience and information and assisting contractors with implementing and maintaining safe work practices.
The Safety Council in collaboration with our industry partners to identify, reduce, and eliminate construction-related hazards. Be a part of the change for safety…be a member of the Mid-Atlantic Construction Safety Council. Click the "Become a Member" button below.
Need your 10 or 30 hour OSHA training? Call our office 215-557-1961 or email Sue at sgeyer@macsc.org to schedule a class.
MACSC Foundation Scholarship Applications – Academic and Trades

As part of its committee to information quality, MACSC encourages communication with it s members. MACSC fosters discussions with its members and OSHA by a variety of formats including our monthly meetings, phone, and emails.

The information, tools, and resources provided through the Council are designed to assist those in the industry – whether worker or employer – to identify, reduce, and eliminate construction-related hazards.
I wanted to take this time to thank the MACSC for the Scholarship I received for the Spring 2019 year. I am very grateful and appreciate all the support this will provide with my future education. I am currently working in Pennsylvania's construction safety industry and hope to continue making a difference in the safety community and look forward to a continued relationship with all at the MACSC.
Dustin White
EHS Student at Indiana University of Pennsylvania
INTERESTED IN JOINING THE MID-ATLANTIC CONSTRUCTION SAFETY COUNCIL?
If you are a safety professional, working in construction in the Pennsylvania, Delaware or New Jersey area and are interested in becoming a member of the Mid-Atlantic Construction Safety Council, please download, complete and return our Membership Application listed below.