MACSC FOUNDATION SCHOLARSHIP PROGRAM
The MACSC Foundation is now accepting scholarship applications from Academic and Trade Students seeking to further their education in the field of environmental, health and safety.   The scholarship application period for the 2022-23 school year is now open! Applications are due by December 1, 2021. Click here and down the application.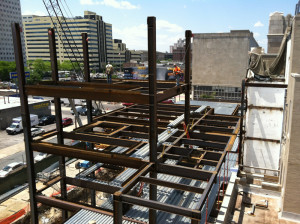 Mid-Atlantic Construction Safety Council
The MACSC consists of Construction Safety Specialists representing Construction Managers, General Contractors, Subcontractors, Insurance Companies, Insurance Brokers, Health Care, Union Representatives, Consultants, Construction Association Representatives and Others. MACSC's efforts are directed towards, but not limited to sharing safety information for our mutual benefit, fostering safety awareness, standardizing safety practices, encouraging cooperation and open communications, providing a resource of knowledge, experience and information and assisting contractors with implementing and maintaining safe work practices.
The Safety Council in collaboration with our industry partners to identify, reduce, and eliminate construction-related 
hazards. Be a part of the change for safety…be a member of the Mid-Atlantic Construction Safety Council. Click the "Become a Member" button below.
Need your 10 or 30 hour OSHA training? Call our office 215-557-1961 or email Sue at sgeyer@macsc.org to schedule a class.
MACSC Foundation Scholarship Applications – Academic and Trades

As part of its committee to information quality, MACSC encourages communication with it s members. MACSC fosters discussions with its members and OSHA by a variety of formats including our monthly meetings, phone, and emails.

The information, tools, and resources provided through the Council are designed to assist those in the industry – whether worker or employer – to identify, reduce, and eliminate construction-related hazards.
I wanted to take this time to thank the MACSC for the Scholarship I received for the Spring 2019 year. I am very grateful and appreciate all the support this will provide with my future education. I am currently working in P
ennsylvania's construction safety industry and hope to continue making a difference in the safety community and look forward to a continued relationship with all at the MACSC.
Dustin White
EHS Student at Indiana University of Pennsylvania
INTERESTED IN JOINING THE MID-ATLANTIC CONSTRUCTION SAFETY COUNCIL?
If you are a safety professional, working in construction in the Pennsylvania, Delaware or New Jersey area and are interested in becoming a member of the Mid-Atlantic Construction Safety Council, please download, complete and return our Membership Application listed below.