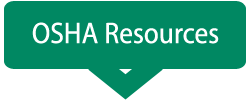 U.S. Department of Labor Issues Guidance Alerting Employers to Frequently Cited Standards Related to COVID-19 Inspections
The Occupational Safety and Health Administration (OSHA) has issued guidance and an accompanying one-pager to help employers understand which standards are most frequently cited during coronavirus-related inspections. OSHA based these documents on data from citations issued, many of which were the result of complaints, referrals and fatalities in industries such as hospitals and healthcare, nursing homes and long-term care facilities, and meat/poultry processing plants.
The one-pager and guidance document provide available resources that address the most frequently cited standards, including Respiratory Protection, Recording and Reporting Occupational Injuries and Illnesses, Personal Protective Equipment and the General Duty Clause.
OSHA Updated Summary of Available COVID-19 Resources – 11 November 2020  Page 6 >>>> 
Visit OSHA's coronavirus webpage frequently for updates. For further information about the coronavirus, please visit the Centers for Disease Control and Prevention.
The U.S. Department of Labor's Occupational Safety and Health Administration (OSHA) recently issued the compliance directive Inspection Procedures for the Respirable Crystalline Silica Standards
Revised Enforcement Guidance for Recording Cases of Coronavirus Disease 2019 (COVID-19) MEMO from May 19, 2020
https://www.osha.gov/memos/2020-05-19/revised-enforcement-guidance-recording-cases-coronavirus-disease-2019-covid-19

FDA advises consumers not to use any hand sanitizer manufactured by Eskbiochem SA de CV in Mexico, due to the potential presence of methanol (wood alcohol), a substance that can be toxic when absorbed through the skin or ingested-
OSHA has issued a temporary enforcement policy on crane operator certifications from the Crane Institute Certification (CIC)
OSHA Top 10 Most Frequently Cited OSHA Standards FY 2019
November 2020 – The Science of COVID-19, a Community's Response, and What Lies Ahead
Meeting Recording
https://macsc.us19.list-manage.com/track/click?u=dec12fa8e9b4c61040de86dbc&id=fda364a32b&e=f247ad5d74
Passcode: 8i.1E!73

The Science of COVID-19, a Community's Response, and What Lies Ahead slide deck
October 2020 – The View from the Crane Operator
Meeting Recording
https://us02web.zoom.us/rec/share/kx0etmcpVIrlniTSf4POxaxBMLwdQhZWdxAsfGmPRjlDXt3u170i9VIVWXTjfstW.xczSrfZpEyayrvQn
Access Passcode: U*Spq2EC
The View from the Crane Operator slide deck
https://drive.google.com/file/d/1MfurNGrqD062uEV-JsFT0JxmbtC25Gnb/view?usp=sharing
September 2020 – Leading Edge
Meeting Recording 
https://drive.google.com/file/d/1X33CnrjiekGeu8vcZ2U4XvCsi2BGFdJi/view?usp=sharing
Leading Edge slide deck
https://macsc.org/wp-content/uploads/2020/10/Leading-Edge-Behind-the-Scenes-2020.pd
August 14, 2020 – COVID-19 Construction Industry Update & Discussion virtual meeting – download here
June 18, 2020 OSHA – ASSP Trench Safety Stand-Down Webinar:
Download here

OSHA's Trenching and Excavation webpage and the National Utility Contractors Association (NUCA) Trench Safety Stand Down webpage
June 12, 2020 Council Meeting PPE Counterfeit Recording  
PPE Counterfeit Slide Deck
June 2020 – CPWR-NIOSH-OSHA -COVID-19 Webinar Series, covering Data-Driven Insights on Job Site Activity. 

A recording of the event is now available on

YouTube

and a PDF of the slides can be

downloaded here

.  Playlist on YouTube where all of the webinars in this series will be posted as they are available, which can be

accessed here

.
Multiemployer Worksite Policy and Sasser December 2019
General Industry, Construction & Emergency Services – The Partnership Before You Call 911
November 2019
ANSI standard changes – post MACSC meeting Mobile Elevating Work Platform (MEWP) Safety New ANSI A92.22 Safe Use and A92.24 Training Standards effective in December 2019 
October 2019 Selling Safety – Lesson from a former Supervisor
September 2019 Asbestos Awareness  – 
April 2019 "Building to Standard is Not an Option" Pepco Holdings
RecordKeeping 2019 NFPA 70E, 2018